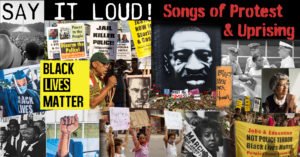 Thank you for your donation to view the Corvid Ensemble "Say It Loud!" video. Please click this link to view the video. If the link doesn't work for you, please contact us, and we'll get the correct one to you as quickly as we can.
The video will remain online until December 26, and you may view it as often as you like. Please, however, do not share the link or post it on social media or the web. The link will change from time to time as updates are made, and all registered viewers will receive an email with the new link for each major update. As of 9/27/20, there is still one song to be added to the video, coming soon!
With this donation, your email address has been added to the Corvid Ensemble concert announcement email list to receive infrequent emails about online events, and concerts when we are able to perform live again. If you wish to opt out, please contact us. An unsubscribe link is included in every email. We will never share your information with a third party or use your email address for anything other than letting you know about events.