Say It Loud! Video Online Now through December 26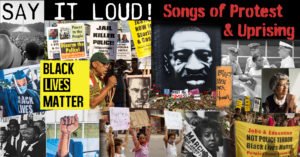 To view the video "Say It Loud! Songs of Protest and Uprising," please click the yellow button below to donate through Paypal. You do not need a Paypal account and can use a debit or credit card without signing in. If you would like to donate with a check or through Venmo or CashApp, 
please contact us
. Donations are not tax deductible.
Suggested

Donation

: $11.50 per adult
Any amount is acceptable. If you are able to offer more, your extra donation will directly benefit the artists. Donations to the Corvid Ensemble are made via Paypal donations to producer Marjorie Bunday, and all donations are split evenly among the participating artists (11 shares — the Corvid Ensemble receives one share for licensing and other production expenses). If you want to cancel your transaction before it has been completed, click the link that reads "Cancel and return to Marjorie Bunday" to return to this page.
After you donate,
you will be directed to a landing page with the video li
nk.
If you are not directed to that page or if the link doesn't work for you, please contact us and we will get a link to you as soon as possible.
The video will remain online through December 26, 2020.